Workday, Inc. is a cloud-based software vendor specializing in human capital management (HCM), enterprise resource management (ERP), and financial management applications. The Workday system delivers an all-in-one package that's designed for medium-to-large-sized companies, especially companies with multiple locations, thanks to features like:
Payroll Management
Time Tracking
Human Resource Management (HRM)
Talent Management
Data Analysis
And much more!
Read on to learn more about our Workday consulting services and how this Workday software can optimize your workforce operations!
What is Workday Software for ERP?
Workday ERP is a software system used for planning in human capital management (HCM), professional services automation, project management, finance, analytics, and more. Enterprise resource management (ERP) is most commonly used for business processes and data transformation for enterprises.
Most Workday customers are mid-size and large companies and organizations. Workday ERP includes workforce and sales planning, real-time analytics and reporting, and financial management for more accurate and efficient financial accounting processes.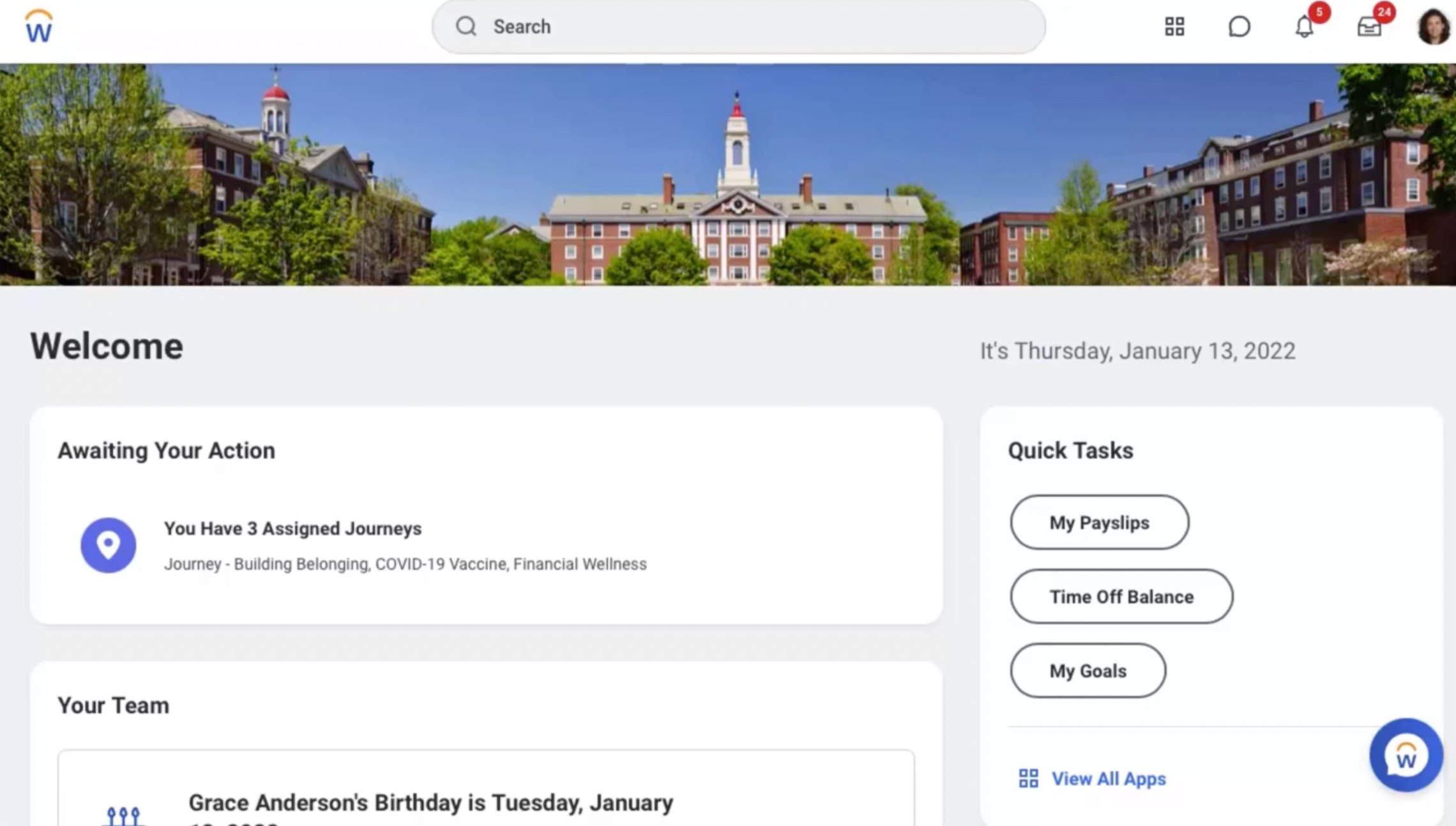 What Does Workday Software Do?
Workday is a cloud-based software whose core concepts and features specialize in Financial Management, Enterprise Resource Planning (ERP), and Human Resource Management. With over 9,500 customers, Workday has provided existing customers, companies, and organizations with efficient and optimized HR, finance, and payroll solutions for over a decade.
Workday HR software offers a comprehensive solution for managing employee data and streamlining HR and financial processes, as well as advanced analytics and reporting capabilities to help businesses make better decisions and improve their overall performance.
With its comprehensive and collaborative solutions and user-friendly interface, Workday is an ideal choice for organizations looking to optimize business process management functions and keep their users connected and well-informed.
Features and Benefits of Workday HCM Software
The Workday platform was developed on a disruptive concept: bring people to the center of enterprise software… And, more than a decade later, they still deliver this people-centric approach.
Employees, managers, and recruiters can access information anywhere on mobile, tablet, and desktop. And, even better, Workday offers mobile access at no additional charge.
Quite a few functional products are included across the Workday product roadmap to help companies manage and optimize tasks from Onboarding and Benefits Administration to Professional Services Automation, Strategic Sourcing, Spend Management, and more.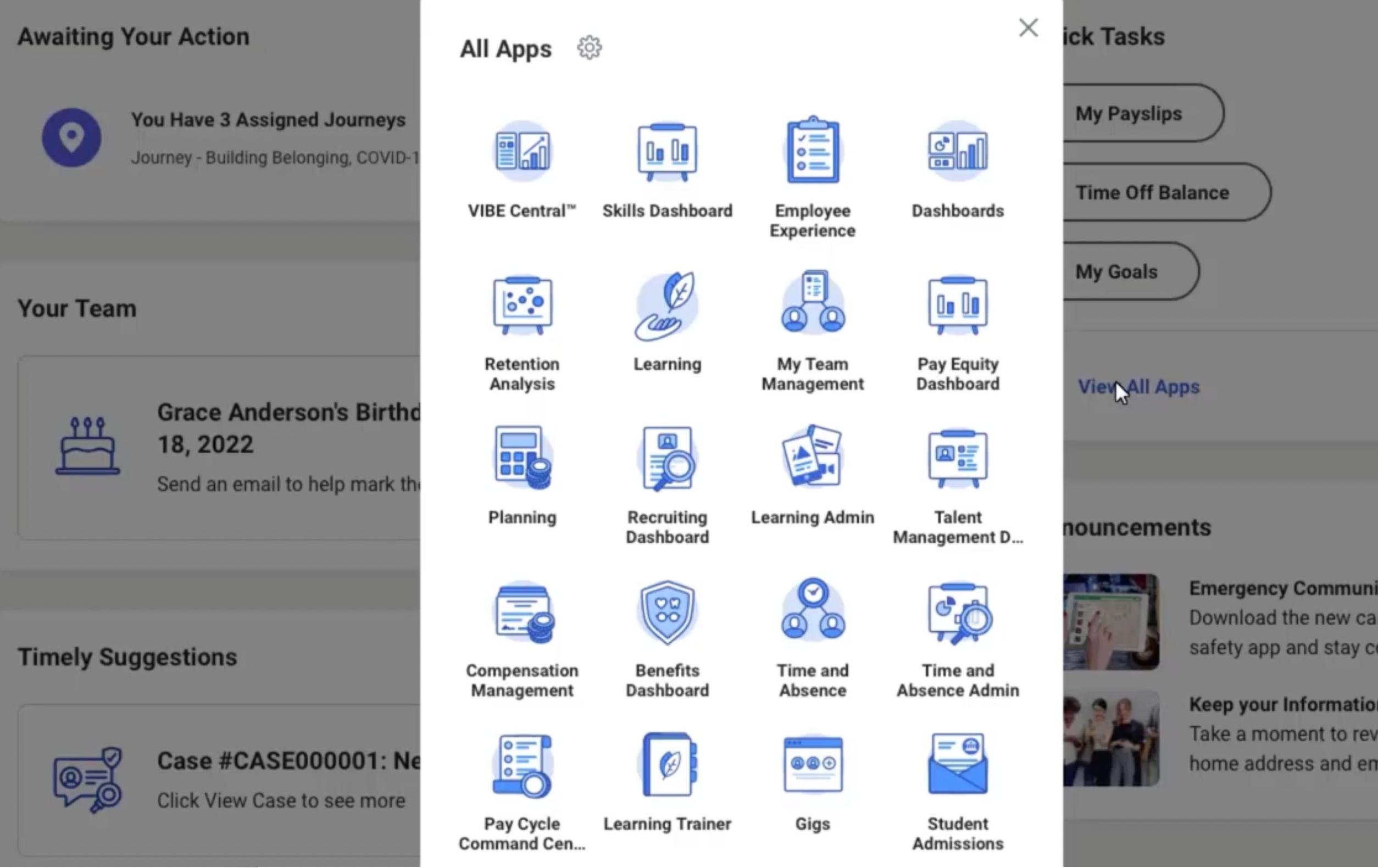 Here are a few of the main Workday products and their core capabilities for your organization…
Human Capital Management (HCM)
Workday HCM is a comprehensive Human Resources (HR) application suite, including Onboarding, Talent Management, Performance Management, Compensation Management, and Benefits Administration. With the comprehensive HCM solution, companies can manage HR-related tasks in a single platform, streamline HR operations, and improve employee productivity across the board.
Recruiting
Workday Recruiting is a functional Workday product created to help companies leverage intuitive recruitment management tools, including job posting, candidate tracking, and interview scheduling functions. This way, companies can attract, hire, and onboard new employees in the most efficient and effective way possible and retain them over time.
Users can also analyze what positions are open or what specific types of candidates they're looking for and then create recruiting strategies based on real-time data.
Talent Management
The Workday talent management suite includes tools to improve managing, developing, and rewarding employees. It contains functions perfect for management, including onboarding, goal management, performance management, succession planning, and career and development planning.
Benefits
Workday solutions help companies manage their benefit plans to meet their unique business needs. Cloud Connect for Benefits includes a pre-built integration catalog to many different providers and automatically takes employee information data from Workday HCM (which means users won't have to worry about manually entering data. Goodbye manual data entry headaches…)
Payroll
Workday's Payroll application is designed to streamline payroll processing and management, including features such as pay calculations, tax management, and compliance reporting.
Workday's payroll management tools make it easier for companies to access relevant financial information, gain greater payroll visibility, and maintain compliance with local tax and labor regulations.
Have employees located outside of North America? Not to worry! Workday's Cloud Connect for Third-Party Payroll makes it simple for your payroll department to integrate with third-party payroll providers. Users can use the local payroll service in the desired country while still accessing payroll data via Workday.
Time Tracking
Workday provides an intuitive timekeeping product built to help organizations manage employee time and attendance, including time-off requests, scheduling, and overtime calculations. This helps key stakeholders access relevant time information, gain real-time attendance visibility, and optimize employee productivity and performance.
Workday makes it as easy as possible for employees to track their time, whether they clock in and out using a desktop, tablet, or mobile device. And for companies that do require physical time clocks, those can integrate with Workday via an API, so there are no troubles there.
Big Data Analytics for Workday HCM
Workday Big Data Analytics combines Workday data with multiple non-Workday data sources for an even better understanding of the Big Picture™. It comes with pre-built analytics templates that address key business issues faced by HR and finance, addressing topics like workforce planning, retention, and diversity for pay-for-performance, compensation, and payroll-cost analysis.
Workday Learning
Workday Learning is a cloud-based learning management system (LMS) that provides features like content creation, delivery, and tracking of employee training and development to make it easier for HR managers and employees to access relevant content.
Workday Learning can also help companies improve employee skills through personalized training and development programs and manage their learning strategies over time.
Workday Adaptive Planning
Workday Adaptive Planning is a cloud-based planning, budgeting, and forecasting solution designed to help organizations align financial plans and business strategies, access relevant information across departments, and leverage flexible and adaptable tools to optimize financial planning and productivity.
Workday Financial Management
Workday Financial Management offers functional finance management applications that enable businesses to manage accounting, procurement, revenue management, and financial reporting processes to integrate all management processes in one solution.
With Workday Financials, users can gain real-time visibility into financial operations and make better, data-driven decisions across different areas of the organization.
Main Advantages of Workday Products
Here are a few key benefits of using the Workday HR platform to improve workforce planning and management, address business needs, and optimize your workforce operations throughout your entire enterprise…
1) Streamlined HR & Financial Processes
Workday Financial Management helps streamline financial processes by providing modern management capabilities in an adaptive cloud-based solution and supporting transaction processing, multidimensional reporting, consolidation, planning, and compliance.
With an emphasis on innovation, automation, and streamlined processes, organizations leveraging Workday Financials can access all the information they need in one place, leverage mobile capabilities to easily manage financials, and achieve greater efficiency.
The Workday Human Capital Management (HCM) system provides comprehensive, functional HR software to improve organizational compliance and efficiency. Workday HCM offers advanced timekeeping features that allow employees to keep track of their regular and overtime hours and features for managing training, performance, and benefits.
Workday Talent Management applications incorporate business and talent data into a single system, making it easier for users to identify retention risks, identify future leaders, and facilitate growth. Removing the distinction between transactions and analytics enables organizations to manage activities in real-time, take action on data from anywhere within the platform, and gain trust in internal talent management data and operations.
2) Advanced Analytics & Reporting
The Workday platform offers a secure and reliable system for workforce analytics and transactions, making it easier for organizations to translate talent and skills data, including financial data, operational analytics, and benchmark reporting data, into meaningful insights about their people.
Workday's advanced analytics capabilities allow businesses to access and analyze their core business data, identify trends and patterns, and gain insights to help users make more informed decisions. For example, with Workday's analytics tools, businesses can track employee performance statistics and make well-informed purchasing decisions.
And, with training courses and education materials for continual learning, companies (and their Workday users) can create and customize reports tailored to their specific needs and leverage machine-learning functionality to identify new growth opportunities quickly and efficiently.
3) Improved Collaboration & Communication
Workday offers advanced tools and resources that facilitate better collaboration, networking, and learning between Workday users and organizations within the Workday landscape.
By leveraging Workday's intuitive user interface (UI) and functional applications, users can access the tools and features they need when they need them, manage data, access advanced analytics, and connect with other Workday users.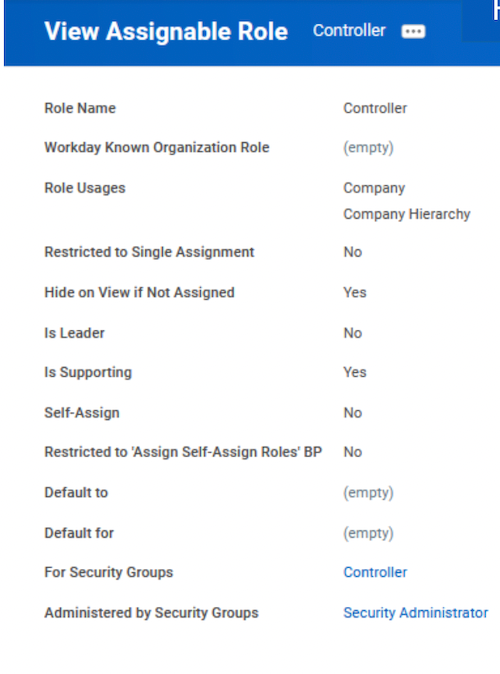 Workday also offers built-in features for collaboration, like Talent Optimization and Workday Community applications, to help users share best practices, exchange ideas, and stay up-to-date on the latest products and features to improve the overall employee experience.
What Kind of Companies Use the Workday HCM System?
Workday is used across a wide range of organizations, including those in the Communications, Education, Energy and Resources, Financial Services, Retail, and Healthcare industries, to monitor their Human Capital Management operations, manage employees and their data, and leverage advances technology and tools to facilitate data-driven decisions and processes.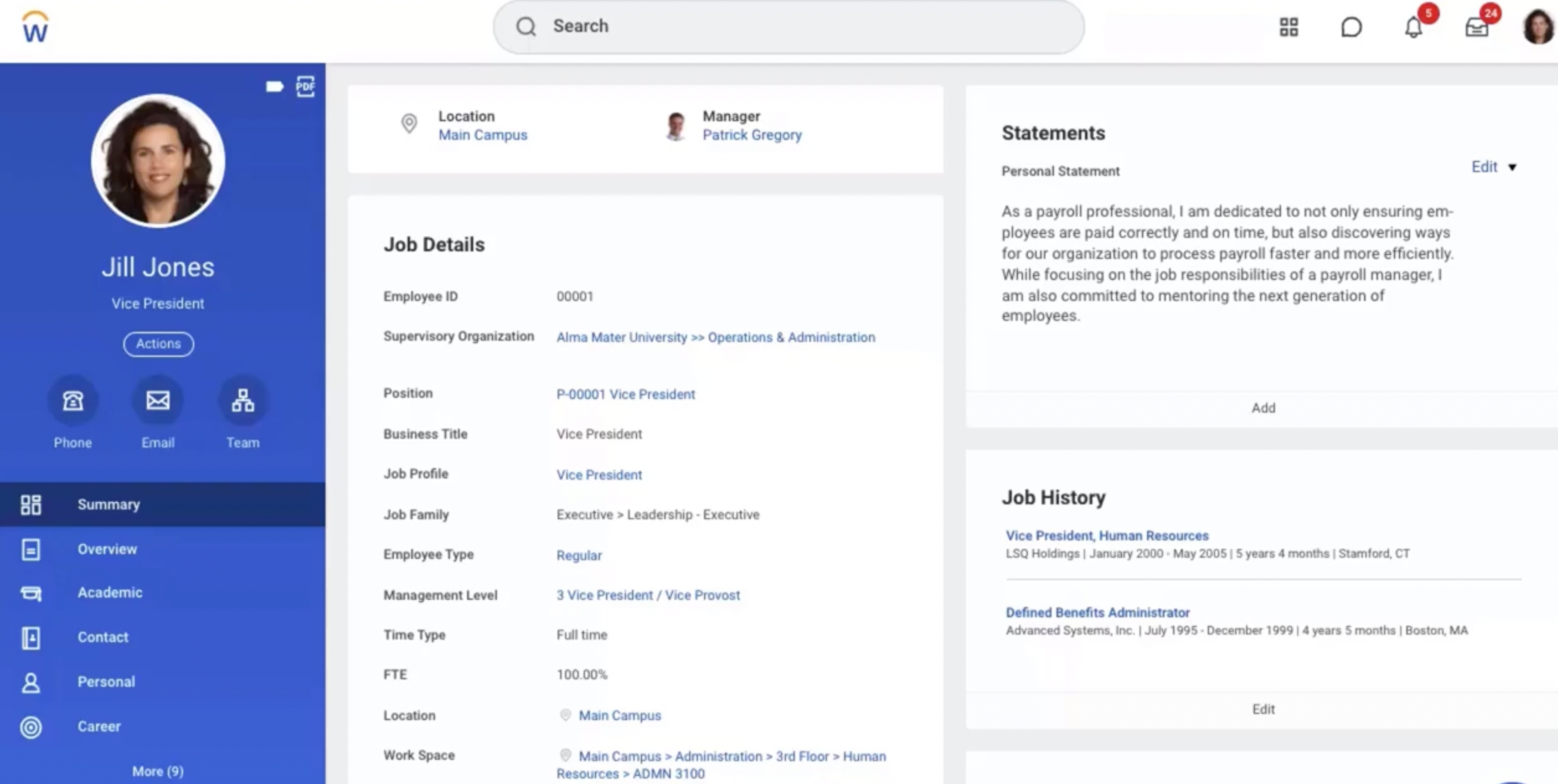 With advanced analytics and functional applications, Workday clients can customize their Workday experience to better meet their needs, tailor their operations to the size and complexity of their organization, optimize their workflows, increase productivity, and improve collaboration.
Here are some of their most notable customers…
Amazon
Bank of America
Hewlett Packard Enterprise
IHG
Netflix
The Ohio State University
Why Workday?
Key products included in Workday's suite of connected applications offer tools and resources that help manage the entire workforce in one place, improve compliance with local laws and regulations, provide better data for decision-making, increase process efficiencies, and offer mobile access at no additional cost.
With Workday's cloud-based platform and products, organizations in any industry can manage their data and business processes more efficiently, adapt their Workday architecture to meet changing industry or business needs, stay up-to-date with new software versions, and ensure data accuracy through a single security model.
And, by understanding the benefits of Workday products and web services and how they can help your business, you can gain real-time insights for more informed decisions and improve communication and collaboration across teams and business units.
What Workday Services Does Surety Systems Offer?
Our customers and their needs are at the top of the priority list at Surety Systems. From strategic consulting services to total system administration, integration management, human resources (HR) transformation, and more, our consultants are here to help.
Here are a few main support areas our Workday consultants offer:
Workday Optimization Services
Our team of consultants understands that the Workday platform is an agile solution intended to grow and change to keep up with your business needs and continue optimizing your Workday investment beyond the start of your digital transformation journey.
Whether you need additional support integrating new applications or tools, performing system adjustments and audits, or periodically cleaning up workplace data, our consultants are here to help.
Our Workday consulting team also has extensive experience in Workday Studio integrations and configurations. Regardless of the complexity of your Workday platform or integration between external systems, our team has the expertise needed to keep track of valuable data and ensure you are leveraging the best technology for your needs.
Workday Financial Services
Finance management can be one of the most significant business challenges for companies lacking the right resources to manage financial data, reduce risk, and maintain compliance at the same time. Workday Financial Management provides a cloud ERP solution to these all-too-common issues, but without the right people in your finance corner, your team is back to Square One.
Our team of Workday consultants is here to help you automate financial processes, enhance your visibility into financial data and insights, and plan for future investments that will add continuous value to your organization and improve the productivity of your finance team and your company as a whole.
Workday Payroll Services
Payroll is one of the most critical business processes because if employees are not paid on time, or their payment is incorrect, their engagement, productivity, and satisfaction will suffer (and so will your company). This is where Workday Payroll comes in to streamline payroll processes and manage data in one solution. But what happens if your team lacks the right skills or experience needed to navigate a system like Workday?
Enter our expert Workday consultant team. With our Workday consulting services, pay group configuration, payroll processing, reporting, and auditing become much simpler, saving you valuable time in the long run. Our consultants take care of complex Workday Payroll configurations and integrations so your employees can focus more on doing their jobs.
Workday Post-Production Services
Implementing a new Workday system is no small feat, but the real work comes in managing and maintaining your Workday applications long after your initial go-live date.
Luckily for you, our Workday consultants know that to optimize business processes long-term, your team needs the right resources, personnel, and training to handle any and all post-production tasks, including setting up new tenants, filling security gaps, and using data insights to identify opportunities for growth and maintain a flexible and agile Workday solution
Implementing the Workday Human Capital Management System
If you've envisioned your goals and decided that Workday is the solution to help you reach them, your next step is implementation—that's where the real work begins.
Because Workday implementations affect so many people within an organization (not just HR departments), it's essential to be prepared for your business transformation.
To avoid implementation challenges and achieve a seamless transition, partnering with an IT consultant who has extensive Workday knowledge and experience with core business intelligence components is key.
Getting Started with Our Team
Our senior-level Workday consultant team, for example, has the experience to help you implement your solution successfully and ensure you're getting the most out of your Workday investment.
Contact us to learn more about our Workday consulting services and get started on your digital transformation journey!