It's no secret that time is an essential element of success in any organization, and it's something we all seem to need more of. Too many obligations, tasks, and requirements in the workforce can lead to a lack of focus and decreased productivity for your employees, which is beneficial to no one.
Timesheets and attendance tracking systems are built to focus on one thing – time. It's quite ironic that the one thing most of these low-functioning, outdated systems are centered around is the one thing that is costing them in the long run.
Workday understands that tracking your time and attendance is important in ensuring proper approval and compensation for work done and knows what a valuable asset time is in the workplace. That's why they created Workday Time Tracking – an application built to save time, decrease labor costs, increase productivity, and reduce compliance risks.
Read on to learn more about the key features and benefits of Workday Time Tracking.
Time Tracking in Workday
Workday Time Tracking is a time-and-attendance application that allows users to streamline their time-entry, management, and approval processes and increase employee engagement with its consumer-driven approach.
The Workday Time Tracking application is available whenever you need it, wherever you need it. Its innovative design allows users to access important time-and-attendance information online, on their mobile devices, or with a physical time clock. This way, employees can keep up with real-time tracking information, empowering their experience and increasing productivity in the process.
The Time Tracking module is also seamlessly integrated with other Workday applications – including Workday Payroll, Workday Human Capital Management (HCM), and Workday Absence Management – offering a more complete end-to-end experience for users. Increased functionality and interoperability between applications allows for more efficient and accurate time tracking and approval processes by employees, saving them valuable time to be used on doing their own job and adding more value to the organization.
Key Features of Workday Time
Now that you know a little more about what Workday Time Tracking is, let's talk about some of the key features that set Workday apart from other time management systems.
Integration with Other Workday Apps
At its core, Workday Time Tracking is connected to other Workday applications and modules, including, but not limited to, Workday HCM and Payroll. The seamless integration between Workday apps not only offers more efficient time management processes, but it also allows teams to distribute time data more easily between systems, offering a more streamlined Workday Human Resource Management system as well.
As an added bonus, Workday Time also integrates with Workday Cloud Connect to connect and manage third-party payroll systems and tools.
Self-Service Time Entry
Employees and managers can enter and manage time and absence data through their web browser or on their mobile device. This way, users have control of their own time tracking processes and can gain valuable insights anytime, anywhere.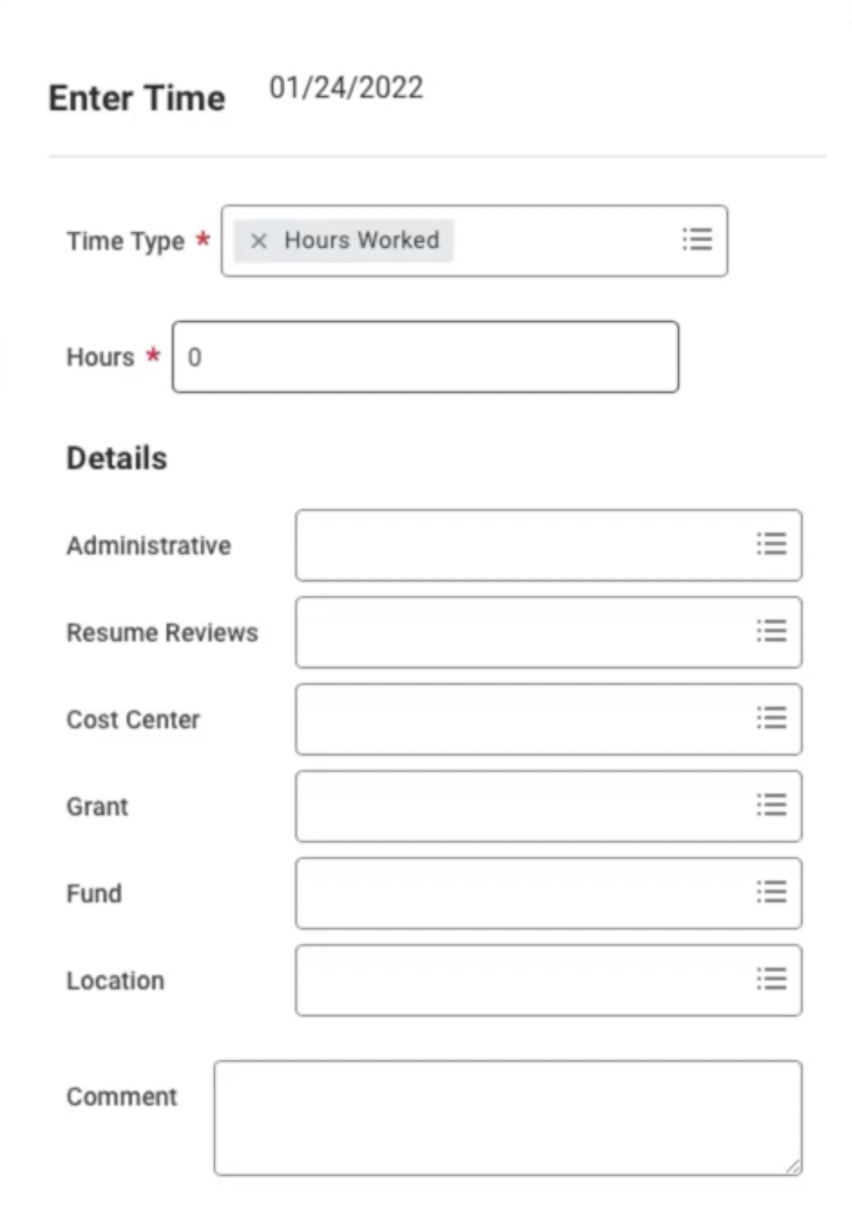 Along with its self-service capability, Workday Time Tracking also allows users to easily configure their time entry, enter time against projects, and see real-time information through a calendar view.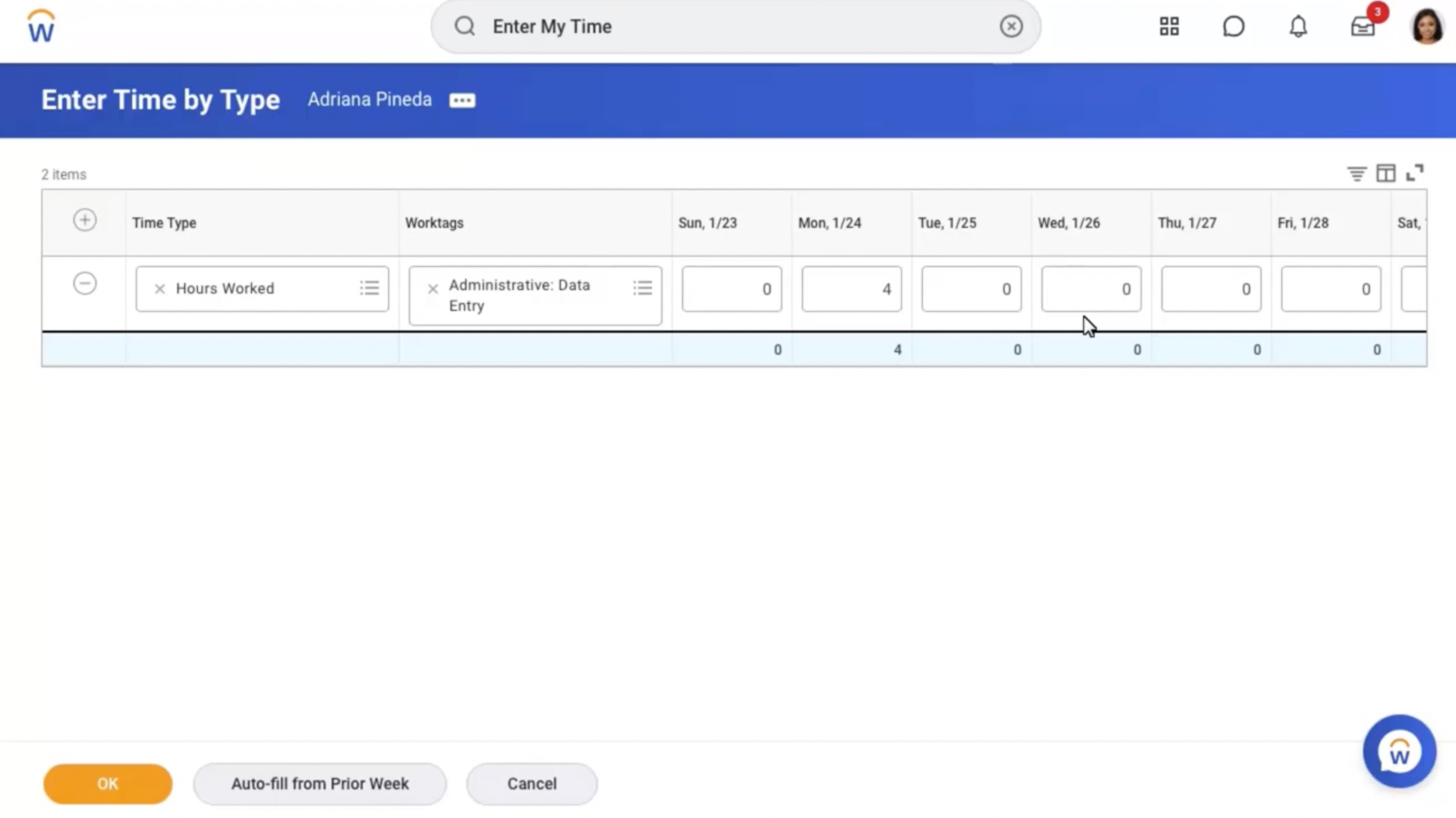 Easy-to-Use Time Clocks
Time tracking includes much more than simply clocking in and out at the beginning and end of every shift, but Workday even makes something as simple as that more efficient. Workday Time offers automatic time-and-date stamps for each time entry, and it even goes one step further and uses location-based services for accurate time tracking on mobile devices.
User check-in is also controlled within the Workday system, allowing only authorized users to enter time and access important data, like employee activity and history.
Efficient Manager Approvals
An all-encompassing time-and-attendance system gives managers more access to employee data and improved control over the approval process.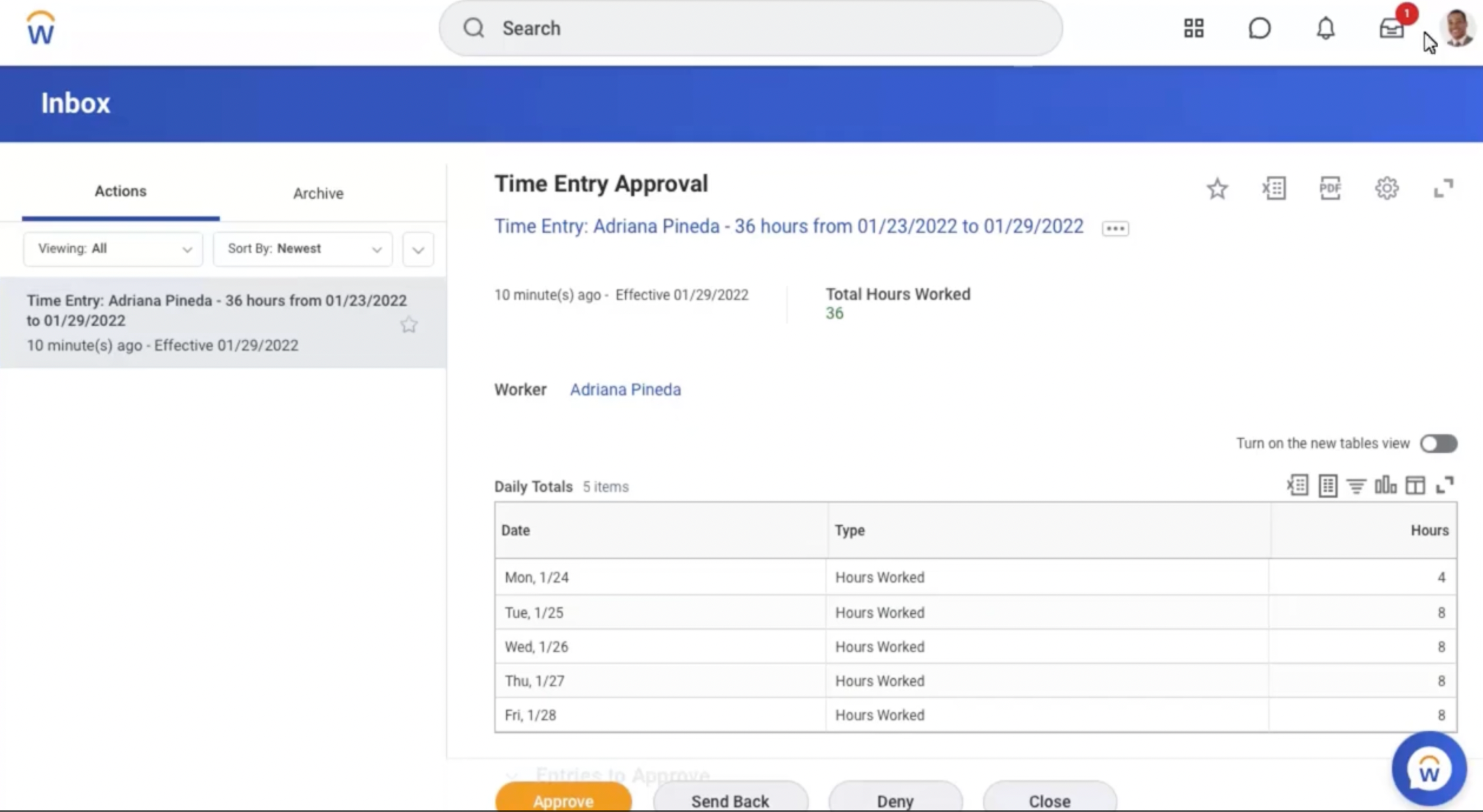 With Workday, managers can approve time and manage exceptions in one system, and they can even get approval notifications on their desktop or mobile device to stay up-to-date with their entire team.

Even better, Workday Time Tracking gives managers complete access to time entry data, overrides, and corrections, thus, eliminating delays and optimizing the approval process.
Up-to-Date Time Calculation
Workday Time Tracking uses a reliable, enterprise-grade calculation engine to calculate real-time data and offer important insights on other calculations, like overtime, before payroll is processed and run.
The multi-functional Workday Time calculation engine also makes the management of consistent overtime, shift changes, and holiday time easier and more effective.
Increased Configuration and Control
Workday Time gives users the ability to change the configuration of their data from units to time in and out, work tags, and more. Improved configuration functions allow for better employee and manager control over time-and-attendance data, leading to less issues down the road.
In addition to its configuration capabilities, Workday Time Tracking uses application programming interfaces (APIs) that integrate physical time clocks with the Workday Time system. These APIs support a broader integration of time-and-attendance data between systems with their ability to manage the inbound import of Workday time clock information.
Benefits that Make a Difference
Workday's comprehensive, easy-to-use time tracking system simplifies time management processes, saving your employees and managers valuable time and increasing engagement throughout your workforce.
Let's take a closer look at a few of the main benefits of Workday Time Tracking:
More Accurate Data
By keeping all time-and-attendance data in a single system, Workday Time eliminates the transfer of data between multiple different systems, minimizing the risk for error and saving time spent on correcting timekeeping and payroll issues.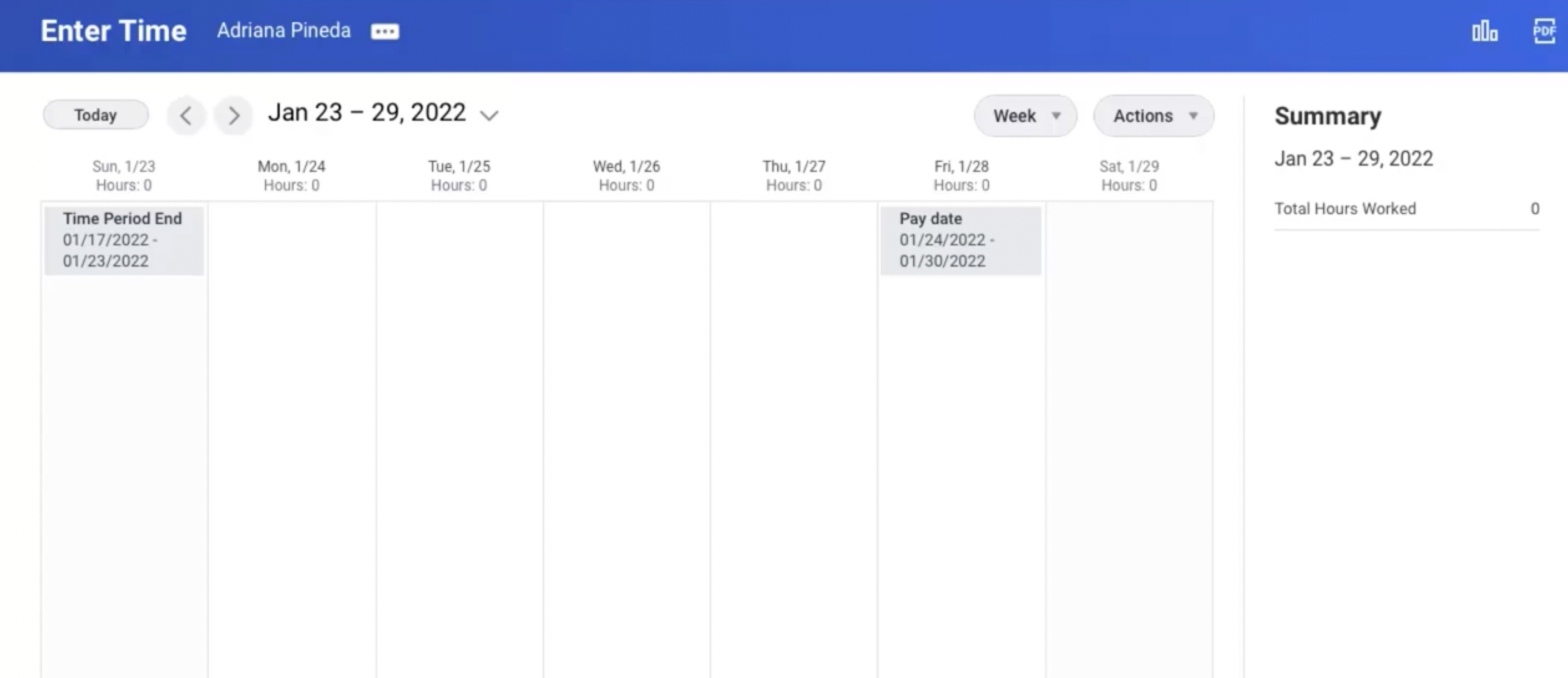 Workday's self-service nature also mitigates the risk for post-payroll time and compensation discrepancies. Because employees are given continuous, real-time access to their Workday timesheet and other time information, like time off requests, they are able to catch any issues or mistakes, leading to more accurate data in the system when the payroll processing date rolls around.
Increased Efficiency
Workday's consistent interface allows all employee data from timekeeping to payroll and more to be processed, managed, and stored in a singular system. This way, no data is lost in the transfer between systems, and all data can be accessed whenever and wherever it's needed.
The Workday Time Management system also uses a simplified framework that makes navigating the system easier and reduces the need for tedious administrative tasks – saving you a lot of time, effort, and headaches in the long run. Workday Time offers drop-down menus, keyword-based search results, and other easy-to-use functions that eliminate confusing formatting and code requirements found in many outdated timekeeping systems.
Improved Reporting
With its connection to other applications within the Workday system, Workday Time Tracking gives users comprehensive, end-to-end insight into HCM, Payroll, and Compensation data and improved reporting capabilities.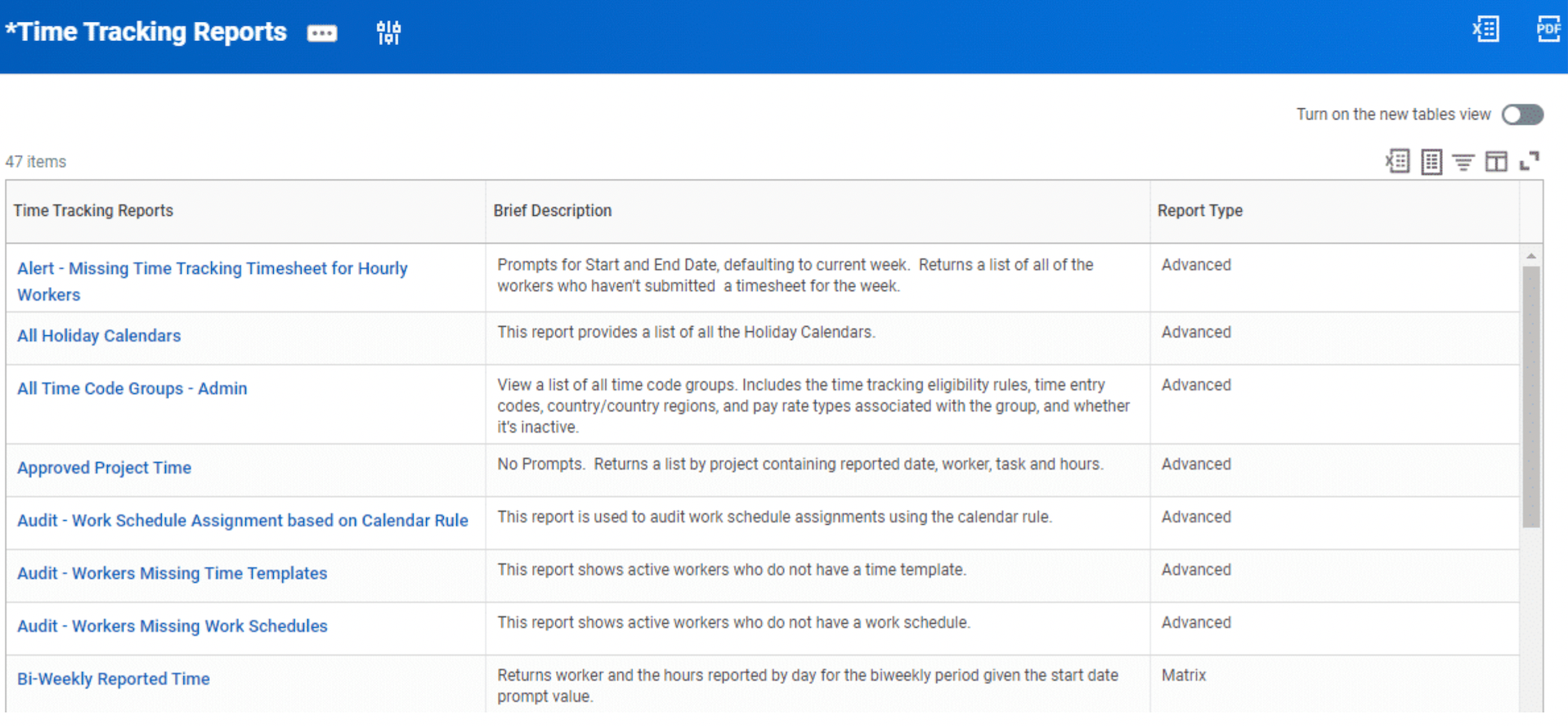 Reports can be scheduled to run automatically, and they give employees and managers increased insight into labor costs and time-off coverage – leading to better timekeeping and scheduling decisions in the long run.
Security & Accountability
Because of the increased visibility offered in Workday, managers are able to see time-off requests and vacation accruals in real-time, reducing the risk for false time information or unwarranted scheduling requests.
Employee requests and scheduling data is also retained within the Workday system, increasing data security and reducing the risk for compliance issues. More accountability and better security leads to more sound data and better decisions being made by managers and company executives.
Partnering with Experts
Now, all that talk about better data, increased productivity, and improved time tracking abilities may sound pretty nice, but what if you're not sure if your internal team can handle the implementation of an app like this on your own? That's where Surety Systems comes in.
Our team of senior-level Workday consultants have skill sets that cover all Workday modules and applications and experience in a wide range of implementations and integrations. Need an extra hand with your Workday time clock integration? We've got someone to help with that. Don't know what the best plan of action for Workday Time Tracking training is for your team? Let our consultants lead the way and guide your workforce through every step.
And, to give you an idea of what to expect when partnering with us, we've included a sample profile of one of our top-notch Workday Time Tracking consultants:
Surety Senior Workday Time Tracking Consultant
5+ years of Workday experience
Specializes in the implementation and support of Workday HCM, Benefits, Payroll, Absence, and Time Tracking
Experience partnering with Payroll teams to analyze time tracking requirements
Ability to configure time tracking eligibility rules and calculations (overtime, double-time, holiday worked, etc) for different employee groups (4/10 work schedule, on-call, and part-timers, Canada union, etc.)
Contact us today to learn more or get connected with one of our expert consultants.