In the dynamic world of retail, where consumer goods companies and retailers are constantly battling for consumers' attention, trade promotions are a linchpin in effective marketing strategies. To master this intricate combination of pricing, discounts, and incentives, companies require advanced trade management tools and technologies.
SAP Trade Promotion Management (SAP TPM) offers a comprehensive solution to help companies plan, execute, and analyze trade promotions effectively. From meticulous sales planning to precise execution and insightful analysis, SAP TPM guides users toward more profitable and efficient marketing campaigns, ultimately redefining success in an increasingly competitive retail landscape.
In this article, we'll discuss the SAP TPM solution, how it enables companies to improve trade management and allocate sales volume more effectively, and where our team of SAP consultants can come in to help.
What is SAP TPM?
SAP Trade Promotion Management (TPM) is a fully integrated software solution designed to help companies in the consumer goods industry create and manage sales, marketing, and trade promotions and enable a more effective customer business planning process for direct and indirect customers.
From account plan creation to plan refinement through forecast-based promotion, 'what-if' scenario evaluation, and promotion optimization, SAP TPM functionality plays an integral role in a company's end-to-end revenue growth management strategy.
The SAP TPM module also offers various deployment options, including on-premise implementations and fully managed cloud operations, enabling users to meet the needs of any deployment landscape and drive integrations with other SAP systems, like SAP S/4HANA and the SAP ECC ERP system.
Understanding the SAP Trade Promotion Management Ecosystem
The SAP Trade Promotion Management platform provides the capabilities needed to plan, create, optimize, and execute efficient trade promotions across the entire organization. There are other relevant components, like SAP BW and ERP solutions, to help users create sustainable process flow.
Here's a closer look at each component that supports the SAP TPM solution:
1) SAP BW
The SAP Business Warehouse (BW) module provides fully integrated, customizable analysis, reporting, planning, and forecasting capabilities that enable users to conduct pre and post-trade evaluations.
This way, companies can gain comprehensive insight into the current and past performance of their promotional planning initiatives.
2) SAP Funds Management
SAP Funds Management offers integrated funds and budget management capabilities that simplify customer planning by linking funds and budgeting information in one unified location.
With intelligent fund linking and budget assignment functionality, users can improve budget management across teams and drive better trade spend.
3) SAP APO
Users can leverage SAP Advanced Planning and Optimization (APO) capabilities to align demand planning objectives with SAP TPM business scenarios. This alignment ensures adequate supply during promotional periods and improves the effectiveness of future promotions.
4) SAP Claims Management
The SAP Claims Management solution enables fully integrated claims settlement processes, making it easier than ever to create, validate, and settle claims within each SAP TPM business scenario.
5) SAP ERP
The SAP ERP Suite allows users to handle all their most critical pricing, billing, logistics, and financial integration processes in one place and enables more efficient enterprise resource planning (ERP) operations.
Users can also leverage integrations with SAP's Customer Relationship Management (CRM) software to build customizations and further analyze their existing trade promotions.
Key Phases of the Trade Promotion Lifecycle in SAP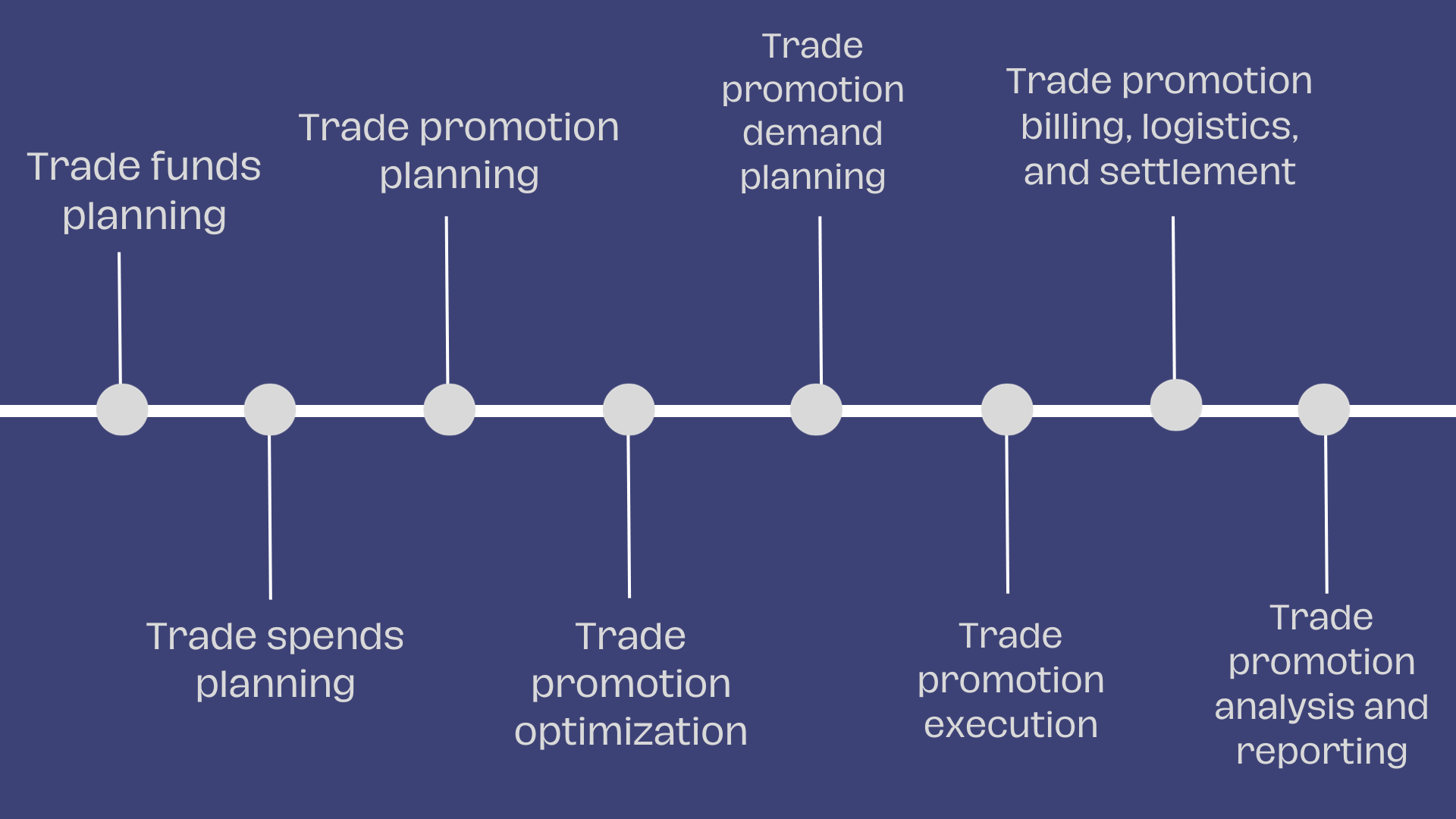 Main Advantages of SAP Trade Management Software
Greater visibility
With integrated tools for customer business planning and real-time visibility into trade promotion planning data, companies can create more accurate trade management plans, quickly identify any deviations in the plan, and effectively resolve deviations.
End-to-end management
Accurate and efficient trade management is critical for today's globally networked organizations, ensuring they provide best-in-class products for customers and manage complex distribution processes more efficiently.
SAP TPM enables users to establish an efficient closed-loop process, making it easier to create budgets, establish cost-effective price points, drive revenue, and enhance customer loyalty.
Simplified integration
SAP TPM allows users to integrate margin, assortment, volume, and promotion data and match deductions to promotions, ultimately improving sales, accelerating the data-clearing process, and facilitating better connections between systems.
Efficient data exchange
By combining manufacturer and retailer perspectives and facilitating better negotiations between customers and retail partners, SAP TPM enables users to share valuable insights and leverage various language choices to navigate a highly competitive trade landscape.
Enhanced data oversight
With SAP TPM, companies can manage accruals and promotions, reconcile financial records in a centralized claims repository, and gain real-time visibility into proposed payments, actuals, and fund liabilities.
Dynamic planning
Dynamic planning capabilities in the SAP Trade Management module help companies drive revenue, price, and margin objectives toward company targets and drive more effective trade management.
How Can We Help?
Whether you need help implementing the SAP Trade Management solution for the first time, additional support establishing connections between your most critical SAP systems, or just an extra hand getting started on your SAP journey, Surety Systems is here to help.
Our senior-level, US-based SAP consultant team has the knowledge, skills, and proven track record of success required to handle all your most important project needs and maximize your overall investment.
Getting Started with Our Team
Interested in learning how SAP Trade Promotion Planning and Management functionality can help you connect complex distribution channels and create a more sustainable trade process flow? Ready to get started on a project with our SAP TPM consultant team?
Contact us today!