Finding the right ERP consultant for your needs can be a tough feat sometimes…
Imagine trying to meet business requirements, find a solution that will optimize business operations, and manage project timelines and budgets — at the same time. This is where finding the best ERP consultant for your needs comes in.
Read on to learn more about the benefits of ERP consulting and how our team can assist you in choosing an ERP consultant that best fits your needs.
What is an ERP Solution?
Enterprise resource planning (ERP) solutions allow companies to use business process management software to integrate their business applications in a single system, eliminate manual processes with automated solutions, optimize business processes, and improve productivity and efficiency for the entire workforce.
What is an ERP Consultant?
An ERP consultant's main responsibility is ensuring that a client's ERP software operates as efficiently as possible. This means that the consultant has the skills and experience needed to navigate complex technical requirements, maximize the functionality of each area of the ERP system, customize the system to meet the client's needs, and complete a successful implementation or integration of the ERP solution in the organization.
ERP consultants are also tasked with proactively developing solutions for any ERP project issues or shortcomings. Whether that means constructing a "What If?" plan for potential issues that could arise or solving issues as quickly and effectively as possible, ERP consultants are critical when it comes to digital transformation projects.
What Does an ERP Consultant Do?
While an ERP consultant's primary responsibility is ensuring that their client's ERP software is running properly and efficiently, there are many different factors that impact an organization's ERP success.
Here are a few of the main ways an ERP consultant can help implement, integrate, and optimize a company's ERP system:
Analyze business systems and processes: Whether your organization is operating without an ERP system or you've had one in place for awhile now, ERP consultants hold the responsibility of analyzing your current business processes and systems to find the right software solutions for your needs. For clients lacking an ERP system, the consultant will focus on gathering the requirements for the right ERP solution and ensuring the feasibility of such a solution. For those with already established ERP systems, the consultant will assess the strengths of the system and find areas of improvement.
Save valuable time and money: By consolidating business processes in a unified system and optimizing the efficiency of these processes, ERP consultants help your company improve productivity and save time to be spent on other tasks. ERP consultants also help keep your ERP implementation or integration project on schedule, saving you money and reducing project risks in the process.
Manage project timelines: When it comes to deploying a new system, an ERP implementation consultant not only helps clients develop the right ERP solution to meet their needs, but they also guide them through each implementation phase to ensure the project stays on time and within budget. And, if you're just integrating new applications or upgrading your system, an ERP system consultant understands the specific needs of your system to keep your project on the right track.
Train and support users: After implementing or upgrading a company's ERP system, ERP consultants are responsible for training employees on the proper functions and operations within the system and helping them understand how to use the solutions most effectively. The best ERP consultants will also provide technical support and help with system configuration and data migration to ensure the system is operating efficiently and all employees are educated and up-to-date on the ERP solution and its capabilities.
How Does Surety Systems Differ?
Surety Systems provides personalized ERP consulting services that involve no bull, no bias, and no breadcrumbs. Our team of senior-level consultants understands that your team has already made a technological investment, so we're just here to make the solution work for you.
Our team specializes in JD Edwards, Lawson, SAP, UKG Kronos, and Workday ERP software and is here to help you empower your internal teams and maximize the efficiency of your chosen technology.
No Bias
Our team of consultants at Surety Systems is unbiased, meaning that we put the needs of your company, your team, and your project before our own — no matter what. You can trust that we won't try to sell additional licenses or lead you toward technology you may not want or need for our own good. Your company. Your needs. Our expertise. That's the name of the game with our ERP consulting services.
US-Based ERP Consultants
Unlike other consulting firms who offshore their consultants, giving you a less-than-personalized experience, our team of consultants at Surety Systems is based in the United States. Regardless of where your company is or what kind of work you need, we have the high quality consultants you need to get the job done without crossing borders or searching outside of the country.
Skillset Matching
Surety Systems doesn't carry a traditional "bench" of consultants, meaning that we don't just fill your ERP consulting needs with the next person in line on the bench. Our consulting services are personalized to fit your needs, right down to the consultant themselves.
We provide your team with a consultant whose skillset matches the needs of your project and whose personality will fit well with your internal team members. We are dedicated to finding the consultant who will meet your business needs, lead you through the entire project, and help you reap the maximum amount of business benefits possible.
Senior-Level ERP Consulting Firm
Our independent ERP consultants have been around the block a time or two and know exactly what kinds of ERP software, technology, and solutions your team needs to succeed on any project. They have the extensive skillset and expertise you need to find adequate solutions for your needs and use their own experience to lead your team to and through ERP implementation or integration — no matter what.
What Makes a Good Consultant?
We recently polled our consultants to determine the most important factor in a good consultant. From skillset match to good communication skills, ability to build good rapport, adaptability, commitment, ability to multitask, and more, our consultants came up with quite a list of characteristics that make good consultants.
Of the top answers, we asked our LinkedIn audience which one they agreed the most with, and here's what they had to say: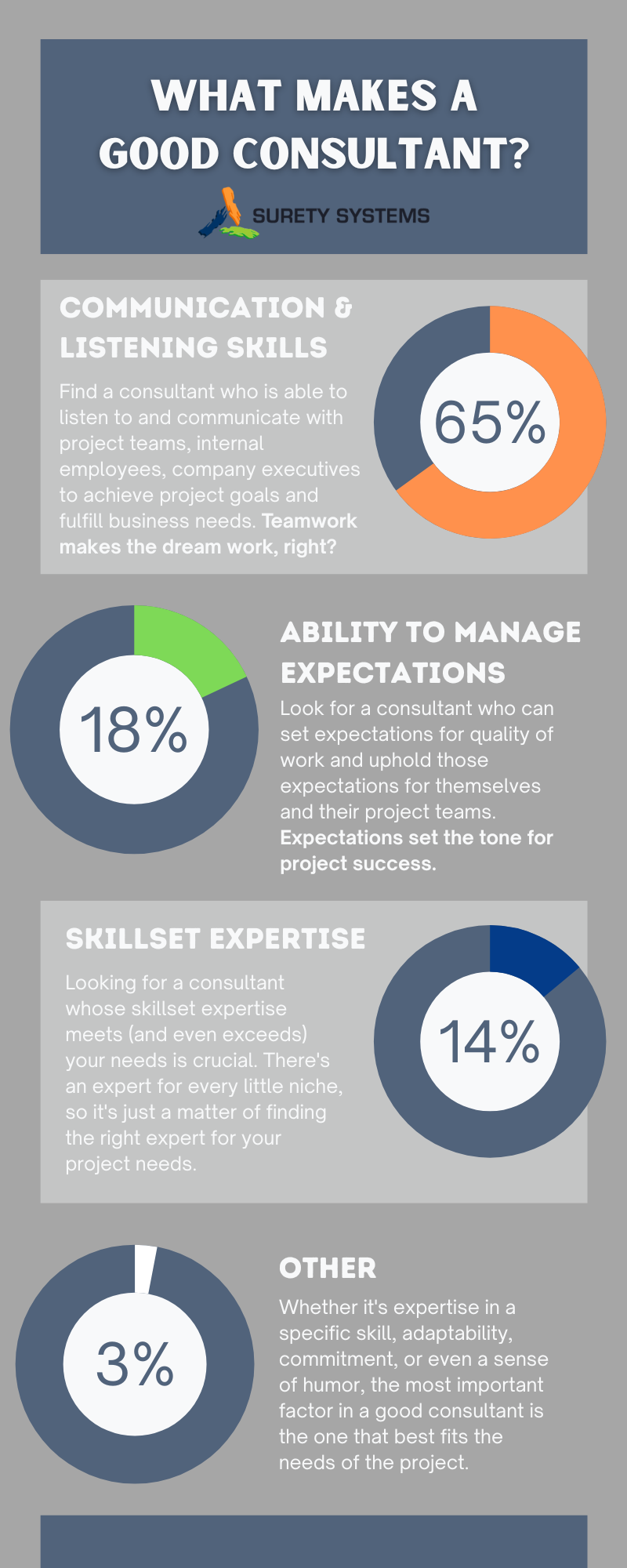 Getting Started with Us
Whether you need help implementing a new ERP software, an extra hand with ERP selection, or just additional support from someone with extensive industry expertise, we have the right independent ERP consultant you need. Our team of consultants has the skills, experience, and knowledge needed to lead your team to project success every time.
Contact us today to learn more about our ERP consulting services or get connected with our team of consultants.